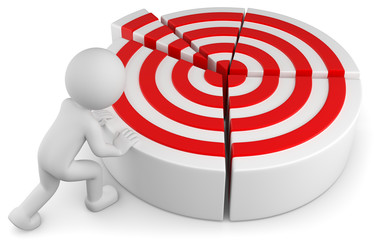 Risk Management is become a key business discipline in any large organization and particularly in Financial Institutions; the 2008 financial crisis largely shed light on this discipline and prompted companies to massively strengthen their Risk and Compliance departments in order to cope with regulatory requirements and prevent another financial crisis. Independently from the Risk area you want to specialize, i.e. Market Risk, Credit Risk, or Operational Risk, a successful Risk Manager will never earn credibility among a well-informed audience though speechifying, but by a clear and precise message sustain by a robust data set, this can be achieved by paying a particular attention to the following:
Be obsessed by data-quality

: Modeling using an irrelevant data set or with an incomplete range of data will always lead you to have a contested outcome. If the Risk Manager cannot directly improve the quality of data, he should nevertheless spend some time on cleaning and reorganizing figures; the Risk-Manager must perfectly be aware on how the model will be impacted by low quality data, and explain the implications to the audience ;

Think "automation":

 

Processes that can be automatized must be automatized, it does not necessarily mean using complex coding, but sometimes just using basic codes or formulas. Every "manual" action undeniably increases the Operational Risk, i.e. a badly performed copy/paste leads to a wrong model output and consequently to wrong conclusions ;

Keep it simple:

It is not always required to build very advanced models to supervise Risk; most of checks can be performed through simplistic tools. If the supervision requires advanced modeling, it is always good to apply a second layer of basic controls on the model, abnormal figures may translate technical issues and not effective Risk breaches ;

Always back-test / stress-test

: Regular back-testing and stress-testing should be performed to ratify the model validity; it is very common that the model robustness changes across time ;

Care about statistics:

If the output should be presented to colleagues or counterparties, keep focusing on the core information, while clearly defining assumptions. If the output produced by a Risk Manager is an automobile, statistics are the outer finishing; you must be confident about the mechanics, but don't feel obliged to show the entire engine to the audience, they rather care about the design and how fast is the vehicle.
The above list is clearly not exhaustive, but it enables the Risk Manager to share his output with confidence, and will undeniably facilitate the discussion with internal and external counterparties.